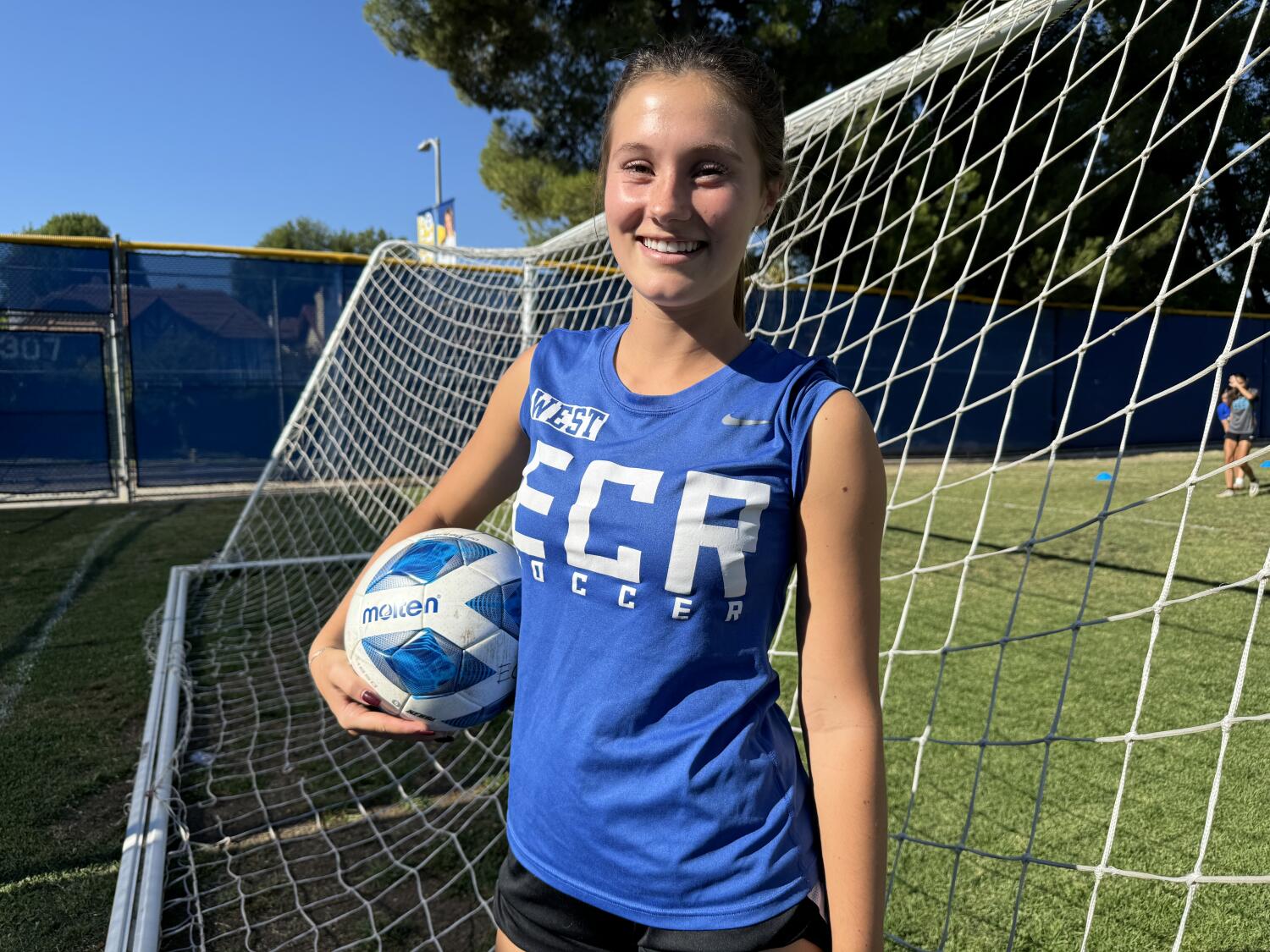 Distinctive scars from surgery to repair a torn anterior cruciate ligament are visible around Ava Tibor's right knee. There's one crossing the knee and another on the side. They represent the agony of a terrible setback but also the hope of a terrific comeback.
Tibor was set to become the best player in City Section girls' soccer last season after scoring 26 goals as a sophomore for El Camino Real High. Then everything came crashing down during a November club game.
"I decelerated in one big step instead of multiple steps," she said. "I felt the pop. I heard the pop. I didn't know how serious it was."
She went home and consulted other players before reality sunk in.
"I've had teammates that have torn it," she said. "I felt I was going to be fine because I was able to walk and jog afterward. When they said they were able to do that after hearing the pop … I didn't hurt that bad. Once the adrenaline wore off, it started to hurt that night. That's when I started crying in the bathroom."
She had a three-hour surgery last Nov. 30 and began what would be an 11-month rehabilitation assignment. She has been cleared to return on a limited basis, with the expectation to have no strings attached come January.
"My goal is to double that," she said of her 26 goals as a sophomore.
Tibor is committed to UC San Diego, and her return should help the Royals contend for a City title along with Granada Hills and Palisades.
In the Southern Section, Oaks Christian, Mater Dei and JSerra lead a strong group of title contenders.
ACL injuries have become a concern in women's soccer. Recent studies have indicated women have a higher risk of ACL injuries than men.
Dealing with the mental challenges of not being able to compete and facing months of rehab required Tibor's total commitment.
From that first night when she shed tears in the bathroom to tears of joy when she successfully did a jumping jack during rehab, it was a struggle of highs and lows.
"I wasn't crying because of the pain," she said. "I was crying because I know what this injury looks like. It's a year out. I've had teammates tear it twice. Soccer, being my whole personality, I didn't want to miss a whole year."
She coped and moved forward by letting others know her progress through social media. It inspired her that she was nearing a return.
"I've learned how to take care of my body better," she said. "I've learned how to rehab, how important stretching is. I've learned how to eat better and build muscles more efficiently."
El Camino Real coach Eric Choi is promising to "turn her loose" when she's ready.
"She's definitely someone we look forward to seeing," he said. "She was scheduled to be the player of the year."
Tibor insists she will be coming back better than ever.
"I feel both my legs are stronger than before," she said.
She also knows the comeback will have bumps along the way.
"Today I missed a step on the stairs," she said. "I caught myself with my hands. My knee got tight and sore. I'm definitely nervous to fall again."
The boys' soccer season has plenty of questions. Servite won't have its top returning player, Joe Moyer, a Stanford commit. He's one of several elite players sticking with their club teams to play in MLS Next. Club programs pressuring players to decide between club and high school competition is an issue that went away during the pandemic but has returned with a vengeance.
Harvard-Westlake, the defending Mission League champion, returns its leading goal scorer, junior Theo Ottosson (22 goals). San Clemente, Cathedral and Godinez also should have outstanding teams.
In the City Section, EB Madha is no longer coach of defending champion Birmingham. Former Patriots leading goal scorer Gus Villalobos, a longtime assistant, has taken over. Steven Ramos and Adrian Diaz, juniors who have been contributors since they were freshmen, will try to keep the Patriots on top.
There are also major concerns with a dispute involving officials and the Southern Section. The officials want a raise. They got one from the City Section last year, but Southern Section schools approved a three-year contract that didn't give them a raise based on hours worked.
Now there's a boycott. Coaches are scrambling to line up college students and others to fill in. Both boys' and girls' games will be affected.