Mono no aware is a feeling universally experienced, yet difficult to describe – a Japanese concept encapsulating the poignant feelings that arise around the ephemeral nature of a certain moment. It's a concept perfectly applicable to the nature of travel itself, where we venture elsewhere to "live," yet are always tied to the bittersweet realization we must eventually return. That literal case of emotional baggage was the inspiration behind the name of the travel brand, Monos.
Lest you believe Monos takes itself too seriously, note the Canadian brand is defined much more by a sense of refined simplicity than any degree of traveler's melancholy. Just take a look at their colorful and tempting cupcake-inspired palette created in the Monos x Magnolia Bakery collaboration with renown NYC Magnolia Bakery, and its clear the company is every bit into the whimsical as they are serious about designing luggage kitted out with the best in functionality.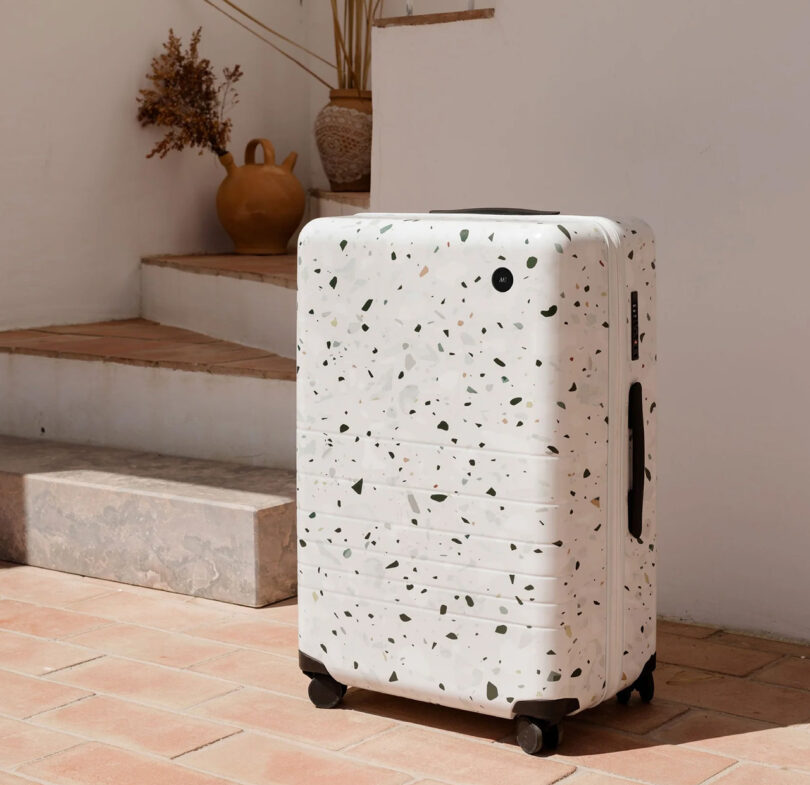 Half of their hard shell luggage options are also available in this stylish limited edition Terrazzo, a design that would undoubtedly reduce the chances of a enacting a Mentos commercial while reaching for the same luggage at the same time as a stranger at the airport (other limited edition finishes include Terracotta, Sage Green, glossy Purple Icing and Banana Pudding).
Specs for Monos' carry-on and check-in bags read par for the course for anyone already traveling with other hard case designs from the likes of AWAY or MUJI in tow. Contents are protected by aerospace-grade, water-resistant polycarbonate hard shells, and you can rush to the gate rolling on 360° spinner wheels.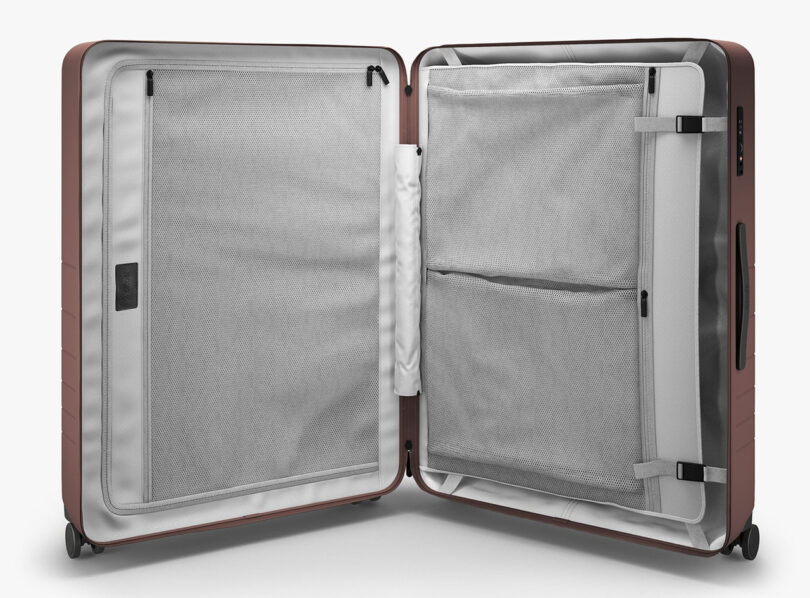 The interior of each case is adorned with an anti-microbial lining made from 100% recycled polyester (now just make these with a bedbug-proof coating, please) embellished with ultra-microfiber vegan leather detailing, TSA-approved combination lock, dual Y-shaped compression straps and dividers to really pack it in, YKK reverse coil zippers, and an adjustable telescopic handle with 4 height settings. In sum, Monos has created a premium contemporary luggage system clearly aimed at the Millennial jetsetter rather than the Tumi traditionalist.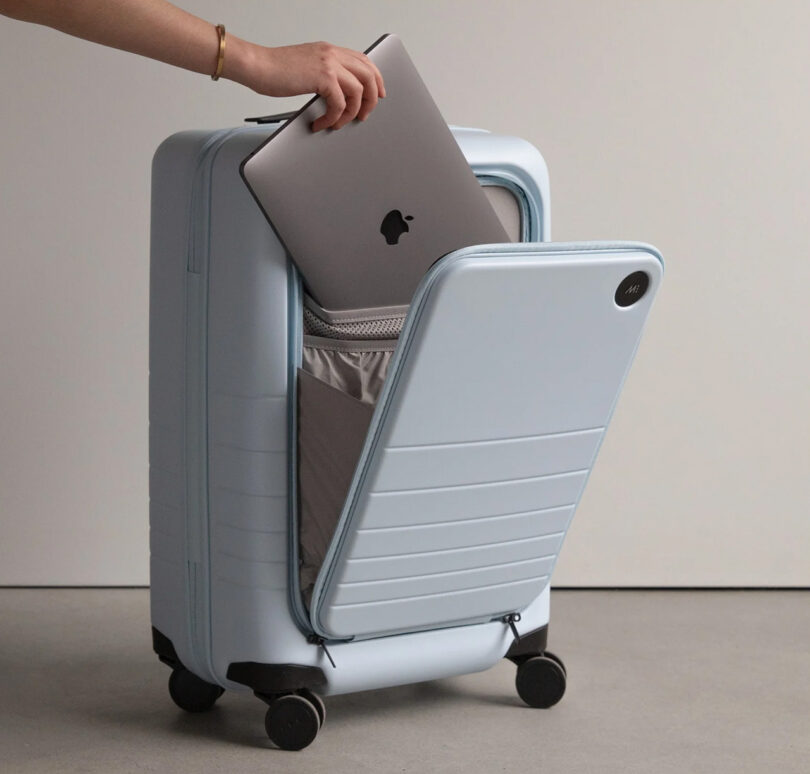 Monos distinguishes itself from the competition more prominently with their Carry-On Pro and Carry-On Pro Plus models. These updated hard cases are outfitted with the addition of a built-in and fold out front compartment that's perfectly sized for stowing away a laptop, while also easing the task of pulling it out when airport security requires inspection. It also makes for a handy spot to keep a sweater, lightweight jacket, tablet, or comfortable travel shoes stowed away for easy access.
Beyond capacity and durability, what many require in luggage is an easy to spot design that can be identified from afar. It's never fun to be waiting for your luggage at the airport carousel only to be unsure whether yet another similar looking suitcase is yours or someone with the same taste. Monos' color options and tastefully executed circular logo branding positioned in the upper left hand of each case helps in this regard (bolstered further by the option to order alphabet stickers to customize your case).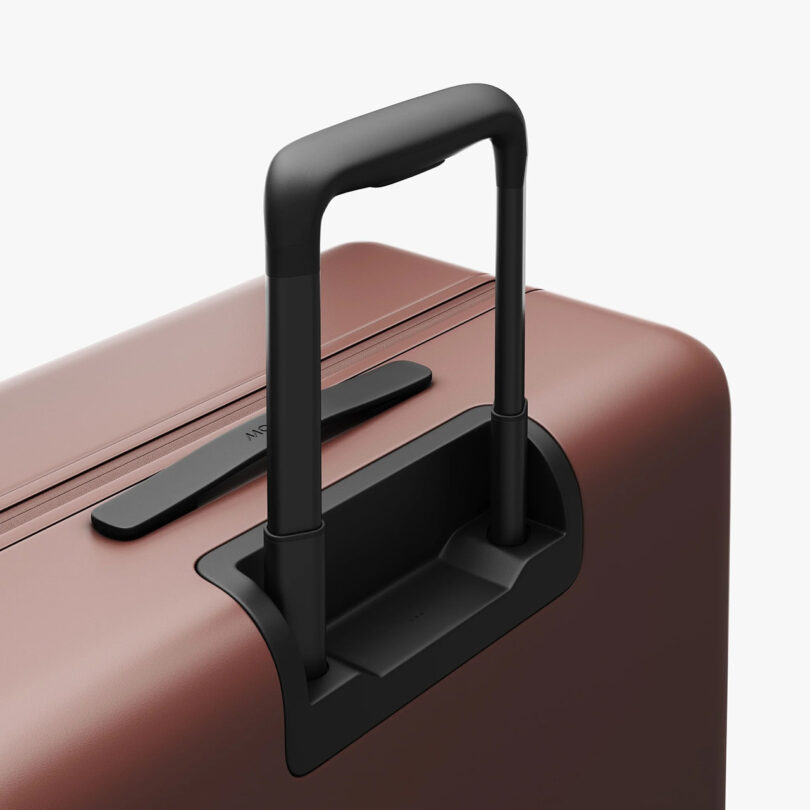 The Monos catalog isn't limited to hard shell luggage; the brand also offers soft bags and backpacks, and packing accessories with a similar minimalist approach to design to complement the larger pieces into a singular travel system, such as the brand's packing cubes that satisfyingly perfectly nest into a bento box of organization.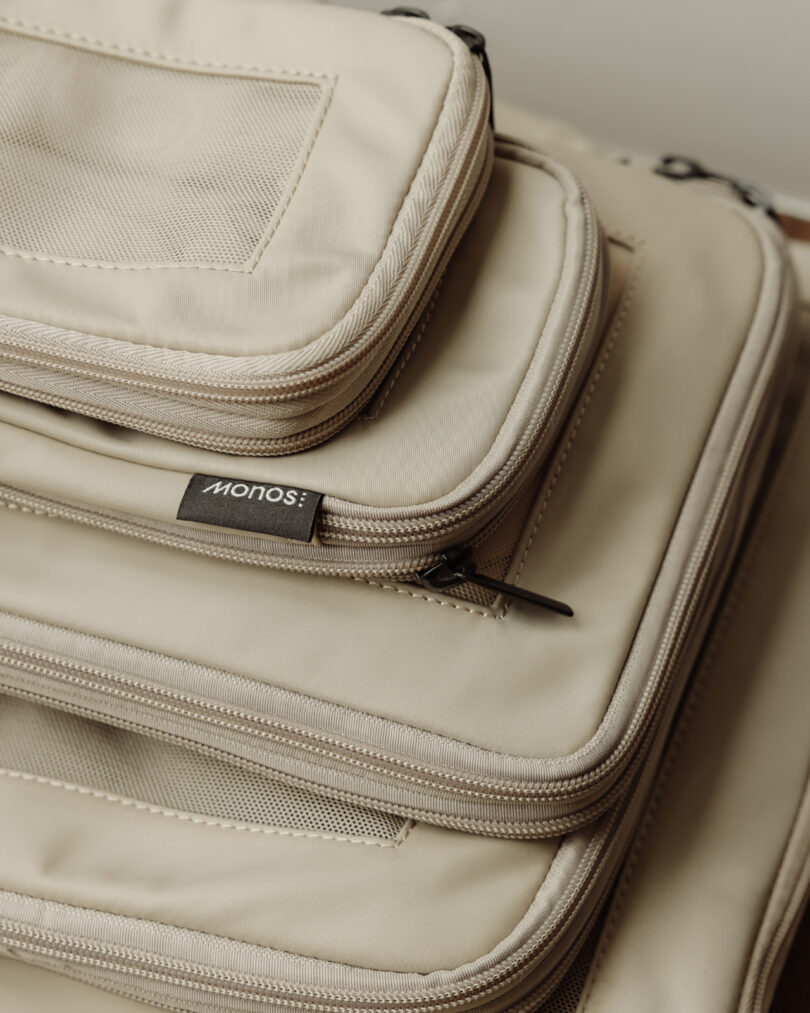 Monos luggage starts at $240* for their carry-on model available in 13 colors, all the way up to their capacious $455 trunk case option (*note: these prices are reflective of the brand's current Early Black Friday Sale).
This post contains affiliate links, so if you make a purchase from an affiliate link, we earn a commission. Thanks for supporting Design Milk!