When I look around my home and take inventory of the items that make me happy, I find that my favorite objects have one commonality – they are either things that have an inherent beauty to them or they make the mundane moments seem noteworthy. Often times, it's a combination of both. Below, I curated a list of 10 gift ideas that I hope will also bring joy to your gift recipient's life by elevating everyday moments.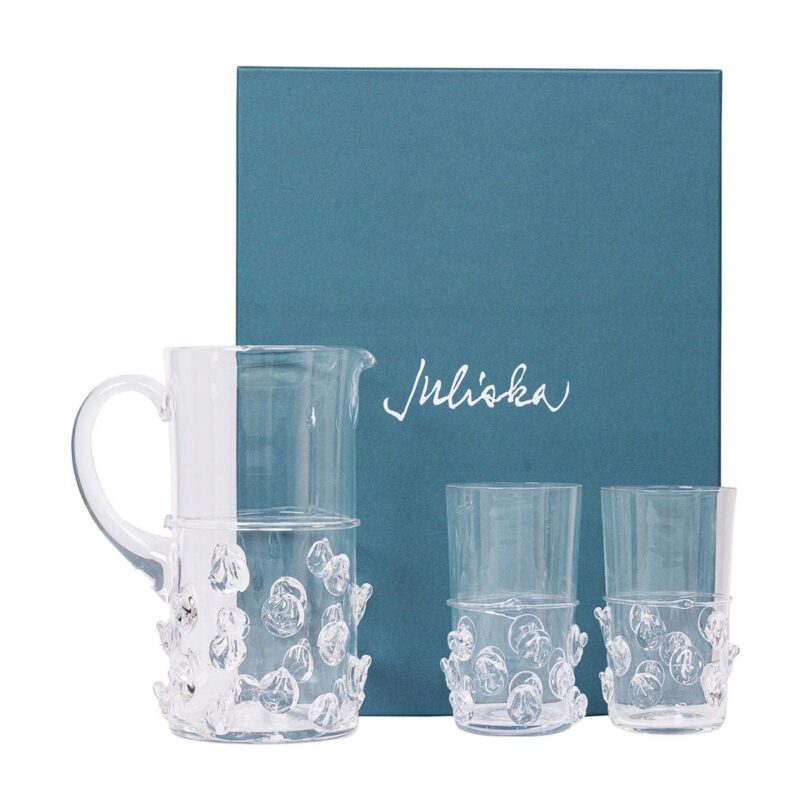 Glassware has become one of my love languages and Juliska was really the brand that started it for me. The relationships we share with the objects we hold dear are very personal but for me, beautiful glassware with really special details – like the "prunt" droplets on this set – help my intention to pause and notice the little things, even when I'm just sipping a glass of water. So essential in this day and age where we always seem to go, go, go. If you know someone who also likes to romanticize their everyday routines, this set is made for them.
This sculptural vase is what air would look like in glass form; its name is Latin for air or vapor. Designed by Gabriel Tan for Audo Copenhagen, the vase makes even just a few poetic stems look like a still life painting. It's a perfect gift for your friend who notices beauty anywhere they go.
"Enjoys collecting cocktail napkins" was not on my bingo card and yet, here we are. I don't know exactly why they spark so much joy for me, but they do! It's just another layer of adding beauty to everyday life. I love the pastel color pairings and golden embroidery on this particular set. It would make a fun little gift for your friend who loves throwing parties and throwing them often.
Another case for charming glassware – this time for the wine lovers! The fun part about this gift is you can pick out all six pieces. Curate a rainbow of colors, do half and half, or choose just one color. The possibilities are endless and sure to delight your recipient whichever way you decide.
I've been a long time fan of Skagerak and now they've joined forces with one of our favorite Danish design brands, Fritz Hansen! While I tend to love matching sets, this is one case where I vouch for getting one of each (teak and oak) to upgrade your common salt and pepper grinders.
To understand why these Faba bags, named after everyone's favorite broad bean, are so special, you'll need to check out Lindquist's Instagram Story highlights. Each one is painstakingly made by hand and each step – using a sewing machine to make each stitch, puncturing the lock cut-out, smoothing and finishing the edges, adding the final (and highly satisfying) quick release pull snap, and more – is done by an actual human who really puts a ton of love into each bag. Gifting one of these is really like gifting a work of art.
I know, shelves aren't a typical holiday gift but if someone really special to you has a unique collection, whether it be ceramic cups, little tchotchkes from around the world, or miniature chair models, these Sætter shelves would be a beautiful way to recognize that love for collecting and display it.
These days, I enjoy the slow release of caffeine via the bright and grassy taste of matcha over coffee. I've perfected my personal drink (a latte, made with a splash of Minor Figures oat milk and a homemade cascara simple syrup) but trying new brands and cultivars of matcha leaves room for fun and exploration, which is how I think most tea drinkers feel! If you know one, this set has everything they need, including a bamboo whisk (made by a Japanese company led by a 25th generation whisk maker), a blown glass whisk stand, an artisan-made sifter, a measuring spoon, and a tin of single cultivar Gokou matcha from Uji, Japan.
I thought I was done collecting luggage when I bought my Away sets, but then I had kids and traveling became my equivalent of a marathon race. Not only do you have more to pack but you also have to consider toddlers in transit: sometimes cooperative, other times unwilling to walk another step through security. This MiaMily carry on is game-changing because it's designed with a backrest that easily flips up to convert your luggage into a ride-along for kids! A seat belt keeps them secured and an integrated hook is handy for those travel backpacks full of games and snacks. Don't have kids? The suitcase can support adults up to ~220 lbs, providing you a seat away from those crowded rows while you wait for your plane. Putting the "fun" in "functional," MiaMily would be a great gift for travelers young and old.
I professed my love for Ossa in an earlier Take 5 but also think this would be such a fun gift for friends or coworkers, especially since these phone chains start at $35! Ossa is making phone accessories cool again but in a more elevated way, with real baroque pearls or jade beads. There's a style for everyone, whether your recipient prefers chunky metal, punchy fruits, or minimalist black.
Follow along so you don't miss any of our 2023 Gift Guides this year!
This post contains affiliate links, so if you make a purchase from an affiliate link, we earn a commission. Thanks for supporting Design Milk!